"trans sex hits different" reads the graffiti on my new favourite insta post, and having in the past year experienced trans sex both with myself and with other people, trans and cis alike, can confirm! Transgender Day of Visibility (TDoV) is a powerful response to Transgender Day of Remembrance (TDoR) held on November 20th, which since 1998 has annually honoured trans people who have lost their lives, particularly those whose death stemmed from transphobia either via hate crimes or suicide. The first TDoV was celebrated in 2009 as a celebration of trans lives, achievements and battles; with each year we have the opportunity to make visible what is hidden, to shine a celebratory light on what is taboo, to introduce more of our community that society would shame into isolation (like we all haven't been socially isolated enough these past two years!).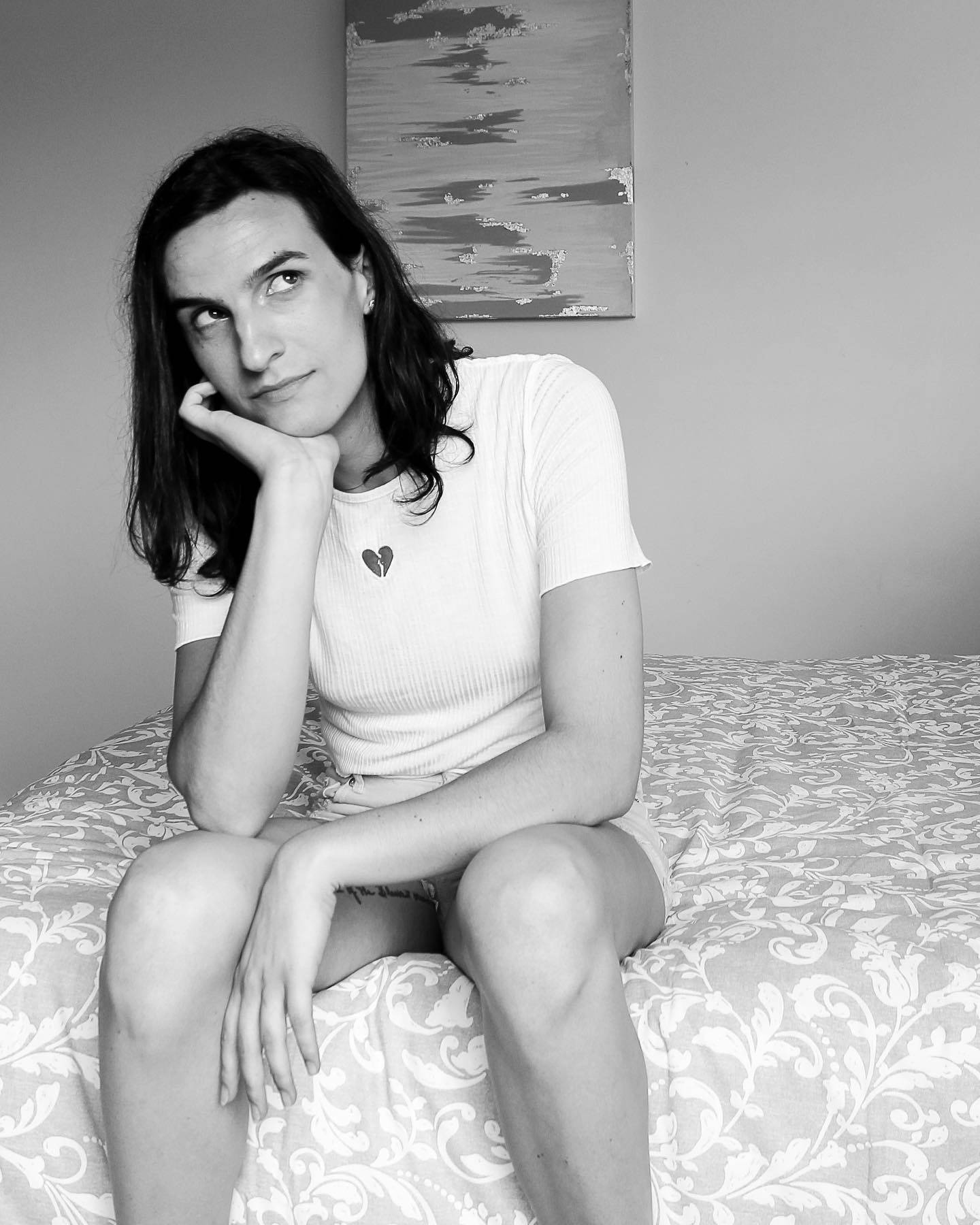 As trans people enter the mainstream thanks to positive pop culture and social media role models like Laverne Cox, AJ Clementine, Schuyler Bailar and Indya Moore, we are experiencing a phenomenon queer people are tragically too familiar with: sterilisation. Only last week the question of whether trans people should be chemically sterilised before being affirmed as trans was asked outright by The Economist. This is the practice in multiple countries around the world, including Australia.
As if that wasn't horrifying enough, most of us recognise that this question stems from the media representation of trans people being metaphorically sterilised, showing us as either sexless and sanitised, or fetishised as unhinged in our sexuality.
We recognise this because the same thing happened to gay men and women through the 80s and 90s before shows like Queer as Folk and Transparent - and arguably Sex and the City, Modern Family and RuPaul's Drag Race - brought nuance and dimension the public's impression of queer life. Now, thanks to groundbreaking work on Dirty Sexy Money, POSE and Euphoria, our trans intimate lives are being explored, but not always in ways that protect us from voyeurism, stereotyping, melodrama or villainy.
So, to continue combating this transphobic nonsense, I'll humbly provide a cheeky bit of visibility into trans sex from the perspective of this single, poly, vers babe with a bulge.
Here are some thoughts worth mulling over when it comes to any sexual encounter, but especially one with a trans person - trans people this applies to you too! There is too much lateral sexual violence happening out there!
Make zero assumptions, literally zero. It can be such a wonderful and arousing thing to share what words to use to describe each other's body, where to touch and how to touch there in a way that will turn each other on, what kind of environment - light level, air flow, proximity to the bathroom - will create a liberated sexual encounter, what safe words and aftercare practices will be effective. Definitely have a Google so you understand some basics about transgender people, how transitions can work etc, but remember being trans is a unique experience of life. Invite mid-coital conversation about how orgasms work, how pleasure can be heightened. Approach trans sex with a forget-what-you-know attitude, come into it with fresh eyes, fresh energy, freshly washed hands and nails.
Be trauma-informed and consent-centered. Trans people are highly likely to be survivors of sexual trauma, so do some reading before hopping into their intimate space, their bed or their heart. Find out what signals indicate that they're dissociating or becoming uncomfortable with the play. Be sure to check-in before, during and after any encounter about how safe and enthusiastic one another is. Safe words, touch agreements, even activity plans can be interesting ways to spice up sensual anticipation. Let each other know what boundaries are in place so you can move freely within them, take 'maybes' out of the equation and enjoy the 'FUCK YESes'.
Affirm authentically. In addition to the above, trans people are highly likely to have been repressed sexually, and as their confidence grows, their body changes and their sexual charisma aligns with their presentation - throw in a "second puberty" for trans people who choose to go through HRT (hormone replacement therapy) - and you've got a very sexually active and adventurous human on your hands (lucky you!). It's important to meet people where they're at, and don't feel the need to say "you're beautiful" to affirm a trans girl's femininity for example when it would be more natural to just say "damn you're so sexy" or just moan and swear a whole bunch. We can tell when you're pandering to what you think we want to hear during sex.
Keep your fetish for personal time. While we can be very sexual people, that does not mean anyone can think of us as sexual before they think of us as people. The thing I learned about sex with a fetishist? It's boring!! Someone jizzing within two minutes of getting my knickers off? That's not satisfying. If you want to objectify a trans body, do it on your own time or pay me for mine. Also, don't approach sex with us like we should be grateful to you for being interested. Real men, women and non-binary babes don't have any trouble seeing us just as desirable as our fellow cis hotties, so I'm happy to wait for them, rather than come tickle your fancy for nothing in return except a stained skirt and a hickey on my neck, no thanks.
Be open (for the whole experience). Be open (for the whole experience). As you may have gathered from the above, the bar that us trans snacks wanting to get freaky have set for you is pretty damn low. So help us raise it. We know there's gonna be awkwardness and mistakes, but most would rather deal with that than be written off as too complicated or too high a risk of getting cancelled (oh yeah I've heard it!). Don't ghost us, don't waste our time, don't get what you want then cast us aside. From the moment you decide you want to charm our pants off, right until a fair, communicated parting of the ways or an ongoing fruitful sexual connection, prove your worth, respect the challenges faced by trans people. We just want to be loved, touched, and fucked senseless, like anybody else (except better).
Please be made certain that my experience is not reflective of trans experiences with sex across our multi-dimensional community. The only way anyone can really understand is to pull their socks up and their bottoms down to have lush, consensual sex with a trans person at their nearest opportunity. Be safe, have fun, use lube!
Bayley is a proud queer trans woman living on stolen Wurundjeri country. She is a writer, spoken word poet, burlesque performer and consent educator.
Check out Bayley's website https://bayleyturner.com/
You can email Bayley here
Follow @turnerwrote on instagram